Home Remodeling Contractor
Since 1975, Sennstrom's Remodeling and Construction has been a leading home remodeling contractor in the area. A family company owned by Bob and Nancy Sennstrom, we provide a high level of personal service to each client, with owner-on-site project management and consistent communication throughout the home remodeling process. We listen carefully to each client to understand exactly what they want to get out of their project, assisting with product and material selection and helping the client understand the home remodeling process, keeping them abreast of progress at all times and making ourselves readily available for questions.
At Sennstrom's Remodeling and Construction, we draw on our many years of experience as home remodelers to keep your project running smoothly from start to finish. We have a keen eye for detail and an expert ability to solve problems before they ever have a chance to slow progress. Each project is carefully planned and coordinated, tailored to the client's individual needs. Contact Downers Grove's premier home remodelers today for a free estimate.
Article from Glancer Magazine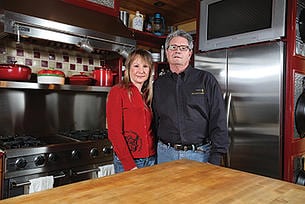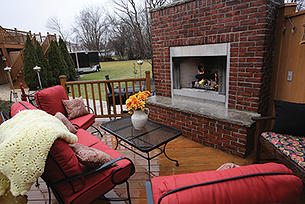 Robert and Nancy have owned Sennstroms Remodeling and Construction for 38 years and their Downers Grove home for the past 34 years. The couple has used their professional expertise to double the size of their ranch style u-shaped home. "Over the years we have added a foyer with a new front porch; enlarged our dining room and two bedrooms; added a front bedroom/office space, a family room, and a spa room with a steam shower (which is now converted to a den area/in-law suite); removed the carport and added a detached garage; replaced the siding; and remodeled the kitchen twice." Nancy says.
And that's just the house structure! The large outside custom deck with fireplace and patio also add to the ambience of the backyard setting. With custom flower boxes, it served as the perfect backdrop to their son's wedding reception. Using various wood species and tones throughout their country casual home, the overall space is warm and inviting, but the future still holds a wish list that includes a new master bathroom and possibly finishing their basement.